Anatomy of a Typical Workflow

Manage Luminaires
This is the process of validating each luminaire family within the Revit model that will be used for lighting calculations. All families must include: a photometric web source type, assignment of a valid photometric file in IES format (IES document LM-63), entry of a light loss factor if other than 1 (initial conditions), and a validity check on lumens, watts and photometric source positioning.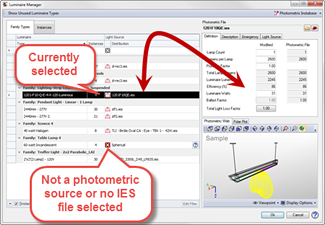 The ElumTools Luminaire Manager provides simple access to most necessary inputs for your luminaire families. The luminaire list can be shortened to show only luminaire families currently in use in the Revit model if desired, and all luminaire instances can be seen from the Instances tab.
Manage materials
In order to perform accurate calculations for the propagation of light within an interior environment, it is extremely important to correctly consider the reflectance of the primary surfaces such as ceiling, walls and floors. Transparency is also required to correctly consider light passing through interior or exterior glass for accurate daylight and electric light calculations. ElumTools provides the Material Mapping command to cross-reference Revit material properties with ElumTools material properties to ensure surface reflectances and transparencies are set correctly.
The detailed approach is to map all surface properties by material. This is done by setting the dialog in the "View Project Materials" mode. ElumTools has access to the "Graphics Shading" color in Revit for all materials in the model. This provides a starting point for the calculation of surface reflectance from the RGB color.* If the Revit graphics color is not an accurate color from which to calculate reflectance, it is necessary to map that surface to a different and more appropriate color, and hence, a more suitable reflectance. Glass and other translucent or transparent materials must also be mapped to the appropriate surface type in ElumTools for accurate daylighting calculations.
ElumTools also provides the ability to override the materials mapping process and assign reflectances to Revit Categories. This can collectively assign a reflectance to all materials within a category such as "Walls". Using Category overrides you can easily simplify the task of verifying your surface reflectances. Often it is useful to assign some material properties using the detailed method and others using categories.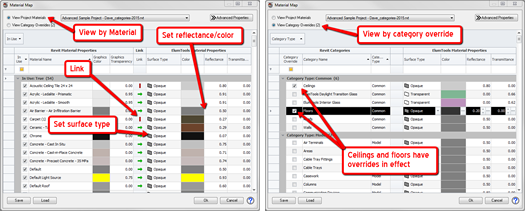 Assign calculation areas
ElumTools makes it easy to assign a grid of calculation points to your choice of surfaces and/or work planes in the Revit environment. Simply select the Calculation Points command followed by the Revit boundary representation of interest to place points on a work plane or surface. ElumTools can place points in Revit Rooms, Spaces, Areas and Filled Regions, as well as on Lines. This command will drop an instance of the ElumTools calculation points family within the selected boundary as required. The points will automatically be limited to the Revit boundary. Openings such as windows, doors or holes (Regions) would not be included and could be covered with another instance of the point family if necessary.
ElumTools does more than just calculate illuminance (incident light in fc or lux). You can alternatively compute diffuse luminance, which is reflected light in cd/m2 and is more indicative of what we actually observe. Luminous Exitance can also be selected which, is similar to diffuse luminance but differs in units. Daylight Factor (for overcast skies) and Unified Glare Rating (UGR) are also available.
Exterior

Interior

Calculate selected boundary
Rooms, Spaces, Areas and Filled Regions created by Revit are used as spatial boundaries by ElumTools. If the Revit model does not contain these boundary designations, it is generally only a matter of a few clicks to add them. For exterior site analysis, it will be convenient to use Filled Regions to constrain the calculation points as desired. It is easy to mask areas by creating holes within the region boundary. This technique may also be useful in interiors.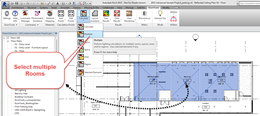 ElumTools calculates boundaries using a single or multiple selection technique. When selecting multiple boundaries, ElumTools allows multiple calculations to be performed simultaneously, yet in separate windows. If environments may exchange light with one another, they can be computed as a single solution including all boundaries. The example shown here is selecting multiple Rooms to be computed individually.
Interactive visualization
ElumTools provides a fully interactive visualization in a pop-up window as a by-product of every calculation. This rendering is designed to allow validation of lighting results (are all my luminaires included?) and a verification of the behavior of light and surface (scalloping from downlights on an adjacent wall). The visualizations are fully navigable and can be reopened when necessary using the Rendering Manager. Lighting designers will appreciate the valuable evaluation tools available such as scaled pseudo-color analysis, radiosity mesh, calculation points visibility and the ability to visualize direct and reflected light separately.