ElumTools Helps You Calculate Daylight Illuminance
ElumTools supports single moment in time daylight illuminance and daylight factor computations using the Revit project site or any location of your choice. Supported sky models include IES, CIE and Perez all-weather skies.
Daylighting is available as a separate mode on the ElumTools ribbon, like the Emergency setting. When Daylight mode is selected the Daylight Parameters button becomes visible.

The Daylight Parameters dialog is used to specify site location, date, time and sky model to be used for the calculations. Daylight can also be combined with electric light to calculate illuminance results due to both natural and electric sources.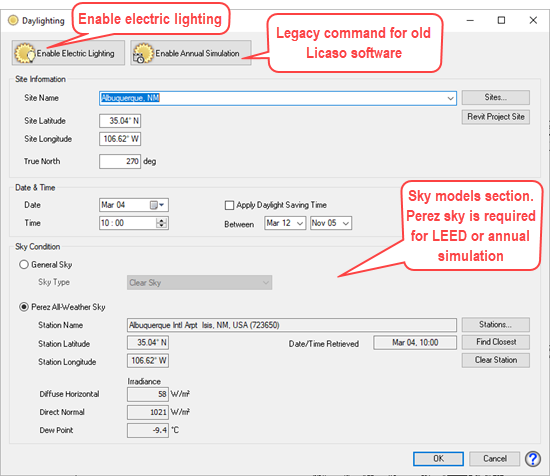 ElumTools Daylight Mode results are stored separately from those of General Use or Emergency Modes and can be placed on unique views or sheets. You can toggle between the different point-by-point results by switching modes when the View Results command is enabled.
Daylight calculations are particularly suitable for the Calculate by View feature in ElumTools. This command allows you to calculate results for only geometry shown in a specific Revit view. To use this feature: setup one or more 3D views to isolate portions of your model for calculation. Commands allow the computation of the "Active View" or the ability calculate "Multiple Views" for ultimate flexibility. Use section boxes to limit the calculation and hide all the other geometry you don't want to participate in the current computation.
The ability to calculate by view also solves the problem of considering exterior geometry such as shades or other structures in daylighting calculations. The new "Create Daylighting Views" command automatically creates exterior and interior views where specific geometry can be exposed or hidden to control its role in the calculations. Once those views are prepared, the "Calculate Multiple Views" command is used to process the daylight calculation.