ElumTools – Emergency Lighting Calculations in Revit
ElumTools supports separate emergency lighting calculations by simply switching the program into "Emergency Mode". All Rooms and Spaces can be recalculated for only the emergency lighting component. Luminaires can be designated for emergency use by instance parameter with output dimmed if necessary, or the luminaire family type can be assigned emergency parameters in Luminaire Manager.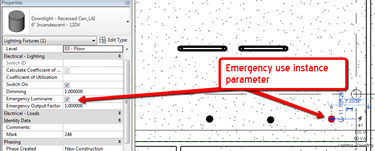 This provides two different workflows for handling the task of emergency calculations. Some will prefer using instance parameters; others will find using designated emergency types to be more efficient. Regardless, it is easy to switch back and forth between Emergency and General Use with a click on the button on the ribbon.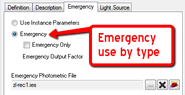 The ElumTools calculation viewer shows an emergency mode calculation in the capture. Switching back to General Use will enable all luminaires, and statistics are tracked and can be scheduled separately.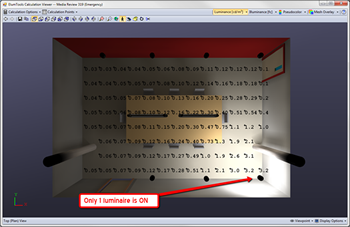 ElumTools tracks your Emergency results separately from those of General Use or Daylight Modes enabling calculations to be placed in unique views or sheets. You can freely move between Emergency Mode and General Use and see your point-by-point results change if the View Results command is enabled.