Lighting Analysts has announced the winner of the 2013 Charles Loch Memorial Award. This is an award for a deserving lighting enthusiast in a recently established or otherwise deserving design practice. The award consists of a complimentary AGi32 software license and one year of SupportPlus, Lighting Analysts' software support and maintenance plan.
Congratulations to the 2013 award winner:
Ms. Insiya Divan and "id Lighting Design (idLD)"
With a Master's in Lighting from RPI and ten years of experience for nationally known design firms, Insiya had all of the credentials she needed to start her own practice. She opened "id Lighting Design" in 2013 to realize her dream of extending her passion for lighting directly to her clients. "Having my own firm provides me with greater opportunity to explore further aspects such as new lighting technology, more artistic approaches, luminaire design, and its health and environmental impacts," writes Insiya in her award submittal. We also keenly identified with her propensity for impromptu live demonstrations of lighting quality for friends, clients and students. Insiya has a mission for success, and we are honored to participate!
She is fond of Thomas Edison's quote "Genius is 1% inspiration and 99% perspiration" but with a small twist: substitute "Success" for "Genius"! We are willing to bet many lighting professionals can identify with this version!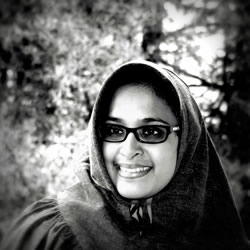 Best of luck to Insiya and id Lighting Design.