Guest Author: Jack O'Hanlon, The O'Hanlon Group
Composer Phillip Glass once said "You practice and you get better. It's that simple." If you're a user of AGi32, I suggest the same advice might also apply.
To expand the musical theme, jazz musicians will sometimes use the expression "woodshedding" to explain the need for the continuous process of practicing their instrument in the pursuit of greater musical competence. In this case, the suggestion is that one must take the time to focus on the fundamentals and spend time in the proverbial "woodshed" to learn the craft of music-making.
As it applies to the use of AGi32 for me, learning its capabilities and nuances (and still learning!) in order to provide an effective tool in visualizing a lighting vision for a project, can at times seem a steep learning curve. However, the reward can be very satisfying when you deliver images that tell a photometrically accurate story which impresses your client in a way that merely empirical data could never do.
Given my company's greater emphasis nowadays on providing lighting design assistance (to reps, manufacturers and lighting distributors) and less so on marketing lighting products, I find it important to 'keep up my chops' on AGi by exploring varied lighting possibilities and its impacts on objects and textures, when time permits. Inspiration for an interior environment can come from anywhere – creating a variation on a recent project, 'building' a space based loosely on what I might have seen in a trade publication, or developing a space premised upon an Object found in SketchUp®.
The theater below is such an example of a space we had provided calculated illuminance data (with little detail beyond that), and decide to see how we might experiment with new architectural details, which in this case included angled wood walls, acoustic ceiling panels, seating, and to really expand our concept, the various instruments seen on the stage.
Many of these Objects and Textures can be found in the AGi Object Library or the expansive SketchUp® library, which I often edit to my liking, and then place within the Room model. When using SketchUp objects however, it's important to find objects with not too many surfaces (I have found a range of 3000 or fewer up to about 9000), but a patient search can often reward you with images that are far more accurate and will invariably surprise your client with a degree of detail and accuracy they rarely if ever, see.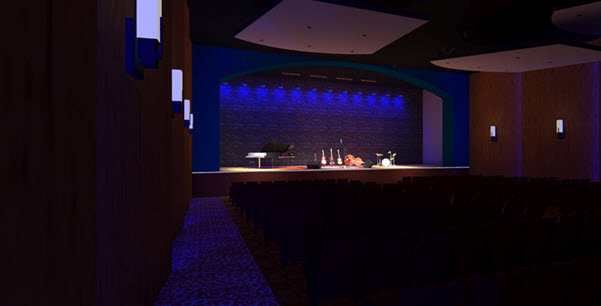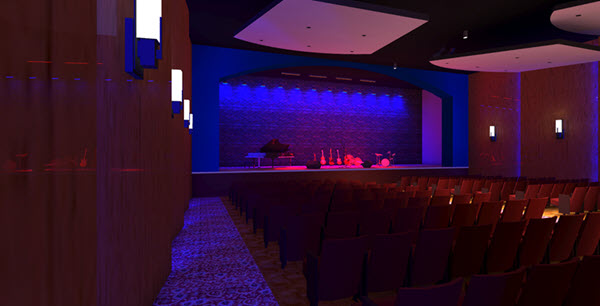 So get to the AGi "woodshed" and work on your design chops. You'll not only surprise yourself, but you'll likely wow your client to a point they'll rely on you time after time to apply your lighting expertise.