Manufacturers – How to Participate in the Instabase®
Lighting fixture manufacturers from all over the globe have found the Instabase system provides an important venue for their product photometric data. Instabase is the only cloud collection of IES product data that can be searched by performance metrics. These metrics are calculated from the IES files, not included within the file. Quantities like Luminaire Lumens, B.U.G Rating, LER, IES roadway type, NEMA type and more. Search access to this information makes it quite easy to find performance "equals" from across a broad representation of the industry's most prominent manufacturers.
The Instabase system is designed specifically for search and query access across multiple manufacturers. Instabase users can search across all Brands (all manufacturers) or select which Brands they are interested in at the moment. Take a few seconds to specify specific search criteria to provide meaningful results and run the search.  Browse the results for fixtures of interest. Download directly, save to Zip or Drag -n- Drop to LAI software for immediate use. Watch this short video!
Extended product data is available for each photometric file as shown below. As a supplier you can link directly to any URL on your website for more product information. This extends the experience for the end user as they can not only see what Instabase provides, but they can utilize your product information as well to make an informed decision.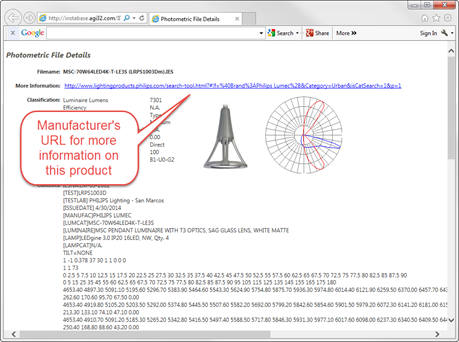 Instabase selections can also be added to their own groups of favorites for future use. The Instabase supports extended functionality allowing the publication of private data for specific users only. Users of your choice can use that data with an access code that you generate and share.
For participating manufacturers (suppliers), the process of assembling the database and uploading to Lighting Analysts' Cloud server is straight forward with data maintenance possible on a file or folder basis. Please see the Manufacturer Guidelines document below to learn how to build your Instabase structure locally, upload and submit to the system.
Manufacturer's Guidelines (PDF)
Be sure and make your data presence in the Instabase all it should be by using Custom Search Keywords (CSK's), webpage URL's and product images (extremely important). Make your data attractive for end users!
Instabase Keyword Editor (free software download)
The Supplier Portal
Manufacturers are provided with a private Supplier portal to the Instabase System to manage their data. By logging in to the portal you can:
View statistics relative to product data usage
Manage your data

Companies are encouraged to separate products into different databases by Brand
Control access to restricted data