Attention luminaire manufacturers! Capture web-browsing customers using quick lighting performance tools while they are on your website! With our Luxiflux software they can easily estimate luminaire quantities and optimum layouts for your specific products to get started on their projects.
Lighting Analysts offers Luxiflux Zonal®, an interior lighting specific tool to provide your customers the ability to quickly estimate the illuminance level, number of luminaires and power density, for a simple rectangular space, and Luxiflux Area™, an exterior lighting software to compute the optimum luminaire/pole spacing to achieve a specified lighting criteria.
The Luxiflux software's ground-up responsive design provides an excellent user experience for mobile users (iOS and Android) as well as traditional desktop. This allows your customers to access the software from your website using their phones or tablets while on the job site or in their favorite Internet hotspot!
Luxiflux software is intuitive enough that only sparse instructions are required. First time users can browse the input sections then once familiar, skip around and obtain results in seconds. The Luxiflux software produces results instantly for the input provided. Sharing results is easy with an email link or by printing straight from the browser.
Manufacturers, you can also implement Custom Commands from toolbar buttons or on specific actions to help you integrate the tool into your own processes. Check out the documentation and imagine the possibilities!
Check out our product specific pages for both Luxiflux Zonal and Luxiflux Area to learn all about each software's specific performance. Then try them out for yourself using the Demo buttons on those pages.
Literature & Technical Documentation
Luxiflux Zonal Featured Video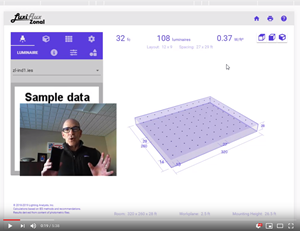 Watch our 5 minute Luxiflux Zonal Introduction!
Luxiflux Area Featured Video