Luxiflux Zonal
Attention luminaire manufacturers! Are you looking for a quick calculator for interior lighting solutions to run on your website? Lighting Analysts has been designing web-based tools for years and you will find our (now legacy) Flash-based software all over industry webpages. New for 2019 is our modern design interior lighting software Luxiflux Zonal. This software's ground-up responsive design provides an excellent user experience for mobile users (iOS and Android) as well as traditional desktop. This allows your customers to access the tool from their phones or tablets while on the job site or in their favorite Internet hotspot!
Luxiflux-Zonal provides browsing customers the ability to quickly estimate the illuminance level, number of luminaires, power density, and produce a lighting layout for a simple rectangular space. Typically, first time visitors go through the input sections left to right. Once familiar with the software's operation you can skip around and obtain results in seconds. The software produces results instantly for the input provided. Email a link to your layout straight to your client or print a customizable one-page summary from your web browser.
Click on the logo below to take it for a spin. Try it from your phone or tablet!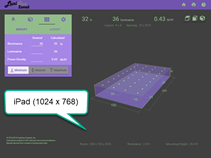 Luxiflux-Zonal – A breakdown of all input
View Implementation Instructions